ABOUT CSH
Administration

Affiliates

Background

Communications

Governance



MEMBERSHIP
Benefits of Membership

Let's Talk

Professional Insurance

Join Us!



ADVOCACY
Taking Action

Federal Regulations

Importing Policies

Provincial Regulations



PROFESSIONAL STANDARDS
Registration

Activation Form

Codes of Conduct

Accountability

Professional Development

Accreditation



Continuing Education Events

Online Continuing Education



PUBLIC AWARENESS & EDUCATION
April Awareness Month



Public Education Events



ABOUT HOMEOPATHY
What is Homeopathy?

Homeopathy Works

Patient Information

Extended Health Insurance

Research

In the News

Articles



FOR MEMBERS
Membership Renewal

Society Announcements






HOME >>ABOUT CSH




The Canadian Society of Homeopaths has a deep commitment to advocating on behalf of unrestricted access to homeopathy in Canada. This pertains to public access to homeopathic treatment by a qualified homeopath, public access to homeopathic products, and professional access to the full range of homeopathic medicines that are available in other countries. In this capacity, CSH is a recognized stakeholder with relevant agencies in both the national and various provincial governments.

CSH and our Affiliates continually monitor and respond to legislative and regulatory developments on both the provincial and national levels. Our representatives also are active in observing and contributing to the world-wide efforts to support the Free Choice in Health Care movement as it pertains to homeopathy, including the public's right to accurate information about the benefits of homeopathy.

Specifically at this time, the Canadian Society of Homeopaths is involved on several fronts:


National Government

The federal government controls the manufacture and distribution of homeopathic products through legislation and regulations under the authority of the Natural and Non-Prescription Health Products Directorate (NNPHPD). CSH remains vigilant in protecting the availability of homeopathic remedies for consumers and professionals alike. MORE



Provincial Governments

All provincial governments in Canada have authority over the practice of health care in their own jurisdictions. Based on our system of Common Law (except in Quebec), a health care modality can be freely practiced unless the province legislates the creation of a professional college to regulate that modality. (Note that a professional college has no connection to an educational college.)

Regulation of a health care profession is intended to protect the public from "significant risk of harm", but it also provides certain advantages and disadvantages to the profession involved. CSH and our Affiliates continue to play an active role in informing our members about the benefits and risks associated with regulation of our profession. MORE




International Developments

Recognizing that a great deal of Canadian government policy and law is influenced by a broader international agenda, CSH supports several international homeopathic and health-related organizations that promote homeopathy and freedom of choice in health care. MORE




Supporters of homeopathy can take action now to help maintain their access to both homeopathic products and services by qualified classical homeopaths. We suggest that you take advantage of every opportunity that comes your way to let political leaders know that you want their support of homeopathy and your own freedom of choice in health care decisions. Supporting membership in this Society will lend support to our advocacy efforts, giving you an important voice in the future of homeopathy in Canada.



FIND A HOMEOPATH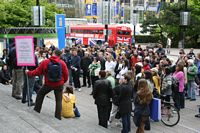 CSH members join a 2008 rally to oppose federal government legislation, which eventually
was suspended.










HOMEOPATHY
IN THE NEWS



The following links
contain a selection of articles published online that feature news and commentary on
homeopathy:

2020 - 2024

2015 - 2019

2010 - 2014

2005 - 2009













Learn more about homeopathy

Articles written
by CSH members

READ MORE