ABOUT CSH
Administration

Affiliates

Background

Communications

Governance



MEMBERSHIP
Benefits of Membership

Let's Talk

Professional Insurance

Join Us!



ADVOCACY
Taking Action

Federal Regulations

Importing Policies

Provincial Regulations



PROFESSIONAL STANDARDS
Registration

Activation Form

Codes of Conduct

Accountability

Professional Development

Accreditation



Continuing Education Events

Online Continuing Education



PUBLIC AWARENESS & EDUCATION
April Awareness Month



Public Education Events



ABOUT HOMEOPATHY
What is Homeopathy?

Homeopathy Works

Patient Information

Extended Health Insurance

Research

In the News

Articles



FOR MEMBERS
Membership Renewal

Society Announcements






HOME >>ADVOCACY




The federal government controls the manufacture and distribution of homeopathic medicines through legislation and regulations under the authority of the Natural and Non-Prescription Health Products Directorate (NNPHPD). As a recognized stakeholder, the Canadian Society of Homeopaths has participated in numerous consultations pertaining to government legislation and NHPD regulations. We remain vigilant in protecting the availability of homeopathic medicines for consumers and professionals alike.

CSH representatives will also intercede on behalf of our members when difficulties arise with importation of homeopathic medicines for professional purposes. MORE




RECENT FEDERAL DEVELOPMENTS AFFECTING HOMEOPATHY


July 15, 2023:
Details about Canadian Society of Homeopaths' campaign in reaction to recent actions by Health Canada are listed separately HERE.



July 7, 2023:
Weekly Online Let's Talk Political Action About Natural Health Products from a Homeopathic Perspective

Canadian Society of Homeopaths announces a weekly open zoom call for all members on Mondays at 5 pm Pacific / 8 pm Eastern. Open exclusively to CSH members to discuss recent updates, planned action, and questions pertaining to the current Health Canada move against Natural Health Products, including homeopathics.




June 26, 2023:
NHPPA's Discussion Paper

Natural Health Products Protection Association (NHPPA) releases a very informative Discussion Paper on 2023 Health Canada Initiatives that covers Health Canada's new cost recovery proposal; new regulatory burdens and fines; and new powers over Natural Health Products, including homeopathics.




May 18, 2023:
C-47 An Act to implement certain provisions of the budget tabled in Parliament on March 28, 2023

The federal government tables Bill C-47 in the House of Commons, which contains a wide variety of amendments pertaining to the recent budget. One section is of particular concern to all Canadians with an interest in Natural Health Products -- see Division 27, 500-504. This section is based on Health Canada's proposal to amend the definition of "therapeutic product" in the Food and Drugs Act (FDA) that removes the existing exemption for Natural Health Products -- including homeopathics -- within the meaning of the Natural Health Products Regulations.

The result would be that the existing provisions of the Food and Drugs Act dealing with therapeutic products would now equally apply to Natural Health Products. This would bring us back to issues we thought had been resolved in 2008 by the previous campaign against Bill C-51.

(Subsequently, Bill C-47 received Royal Assent on June 22, 2023. See details HERE.)




May 12, 2023:
Consultation on Proposed Fees for Natural Health Products

Health Canada has opened consultation on the proposed new fees for Natural Health Products - the "cost recovery" stage of their plan. These fees will be imposed on the manufacturers and importers of NHPs and will have a serious impact on both the industry and consumers. The deadline for submissions is July 26 (later extended to August 10).

To read the full proposal click HERE. Access the online consultation form HERE.




July 15, 2015:
Charter of Health Freedom

The Charter of Health Freedom is a proposed legislation that will give Natural Health Products and Practices their own Act. It will create a completely separate category for Natural Health Products, protected from the regulations and restrictions under current legislation.

Initiated by the Natural Health Products Protection Association (NHPPA), the Charter of Health Freedom will establish recognition for culturally diverse and natural, traditional, and conventional medicine. All CSH members and others with an interest in Natural Health Products are encouraged to become informed about this proposal and to support it in whatever way they see fit.




December 6, 2011:
Healthy Canadians - A Federal Report on Comparable Health Indicators 2010

Health Canada releases a 220-page report intended to provide the "most current national information available on the health status of Canadians and the performance of our health care system … in order to follow trends and progress toward improving the health of Canadians." Notably missing from the report are all Complementary and Alternative Medicine (CAM) modalities -- including homeopathy -- which play an increasingly important role in the health care of many Canadians.




December 30, 2009:
Bill C-6 Dies - For Now

The Governor General grants request by the federal government to prorogue (suspend) Parliament until March 3, 2010, which ends the progress of Bill C-6. An e-mail from the government confirms that it will reintroduce, in original form, the consumer safety bill (C-6) that the Tories claim was "gutted" by amendments approved in the Senate.




January 29, 2009:
Bill C-6

The federal Minister of Health introduces Bill C-6, "an Act respecting the safety of consumer products", which contains similar language to former Bills C-51 and C-52. This new legislation specifically excludes natural health products and, as a result, the CSH Political Action committee will take no direct action at this time, although we will continue to closely monitor the bill's progress. To read more about the implications of C-6 regarding personal liberties issues, see Natural Health Products Protection Association.




December 4, 2008:
Bill C-51 Dies

Controversial Bill C-51 and other pending legislation are suspended as the government prorogues Parliament.




June 11, 2008:
Health Canada Stakeholders' Meeting

CSH representatives attended a packed meeting with representatives of other natural health organizations and businesses to express concerns about Bill C-51 directly to leaders of Health Canada.




June 6, 2008:
View Magazine (Hamilton, ON): Ottawa's Bitter Pill

An interview with CSH President, Jo Twiss, is featured in this article that summarizes wide-spread opposition to the C-51 legislation.




June 2, 2008:
CSH Members Attend Public Forum on Bill C-51

CSH members listened to and spoke with constitutional expert, Shawn Buckley, to learn more about the potential effect of Bill C-51 on the availability of Natural Health Products. Details reported in the current issue of Georgia Straight.




May 10, 2008:
Vancouver Protest Rally

Several CSH members in Vancouver joined the protest against the federal government's proposed Bill C-51 legislation. The event and issues surrounding the Bill were published in the Vancouver Sun.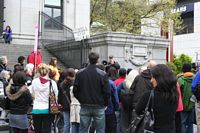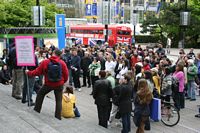 May 8, 2008:
Introducing Bill C-51

Federal Minister of Health introduces Bill C-51 to amend the Food and Drugs Act. Although the Bill does not appear to have any immediate effect on homeopathic medicines, it does contain disturbing changes that have the potential of negatively impacting the long-term access to all natural health products, including homeopathic products.

UPDATED JUNE 15, 2008: The CSH Board opposes Bill C-51 and urges our members and other homeopathic supporters to join in opposing this legislation through a CSH-directed letter-writing campaign and an online Stop Bill C-51 petition.




April 2, 2007:
NATURAL HEALTH PRODUCTS REGULATORY REVIEW

The Natural Health Products Directorate has announced a Natural Health Products Regulatory Review, a public review of its regulations and policies to date. Entitled Charting a Course: Refining Canada's Approach to Regulating Natural Health Products, this Review is accompanied by a document intended to provide sufficient background and information to understand the context of proposed components of the review, and is meant to support the initial stages of discussion.

Health Canada has posted an on-line questionnaire on their website that is intended to obtain the public's opinions on refining Canada's approach to regulating Natural Health Products, which includes homeopathic medicines. All homeopaths and students are encouraged to participate.

Access to the NHP questionnaire will be available only from April 1 to May 30, 2007. Please schedule approximately one hour to complete.




October 10, 2006:
CSH is pleased to announce that we have been informed of a significant change by NHPD in policy interpretation pertaining to homeopathic medicines that will positively affect the importation of many of these medicines. MORE


FIND A HOMEOPATH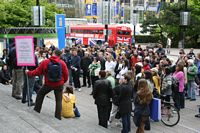 CSH members join a 2008 rally to oppose federal government legislation, which eventually
was suspended.










HOMEOPATHY
IN THE NEWS



The following links
contain a selection of articles published online that feature news and commentary on
homeopathy:

2020 - 2024

2015 - 2019

2010 - 2014

2005 - 2009













Learn more about homeopathy

Articles written
by CSH members

READ MORE