ABOUT CSH
Administration

Affiliates

Background

Communications

Governance



MEMBERSHIP
Benefits of Membership

Let's Talk

Professional Insurance

Join Us!



ADVOCACY
Taking Action

Federal Regulations

Importing Policies

Provincial Regulations



PROFESSIONAL STANDARDS
Registration

Activation Form

Codes of Conduct

Accountability

Professional Development

Accreditation



Continuing Education Events

Online Continuing Education



PUBLIC AWARENESS & EDUCATION
April Awareness Month



Public Education Events



ABOUT HOMEOPATHY
What is Homeopathy?

Homeopathy Works

Patient Information

Extended Health Insurance

Research

In the News

Articles



FOR MEMBERS
Membership Renewal

Society Announcements






HOME




Membership in the Canadian Society of Homeopaths is available to anyone with an interest in homeopathy. Although Benefits of Membership vary according to membership category, all members of CSH share a common bond of participating in the advancement of homeopathy in Canada.

Renewal and application forms for 2023 are available HERE.


There are two broad levels of membership: Registered Members and Supporting Members.


1. REGISTERED MEMBERSHIP

Registered membership represents our largest group of members, comprised of qualified and experienced practitioners who have fulfilled the requirements of Registration. Only members in this group have voting privileges or may be nominated for the Board of Directors.

There are two subcategories of registered membership. Associate members are candidates for registration and Retired members are former registered members who are not practicing at this time.

A. Registered Members
Registered membership is open to all practitioners who:
a) are Canadian citizens or landed immigrants;
b) fulfill the CSH registration requirements;
c) agree to practice according to the Society's guidelines.

Registered members receive full membership benefits, plus access to the CSH professional liability (malpractice) insurance plan; a certificate and credentials; listings on the CSH Directory (website and printed versions); and inclusion in our Referral Service.

Registered membership needs to be renewed annually within the first three months of the calendar year. Other than in extraordinary circumstances that will be considered on an individual basis, failure to complete the renewal process will result in termination of the registered status. Individuals who let their Registered membership lapse will be required to re-apply according to the Application for Registration process currently in effect.

The basic renewal fee for Registered Members is $195.00. Registered members who are entitled to use the designation CCH (indicating certification from the Council for Homeopathic Certification) will receive a $25 reduction.

Registered members are required to submit a Registered Member Annual Renewal form and the accompanying and PDC Calculation Summary form.

Individuals intending to apply for Registered membership should first review the Requirements for Registration and Steps to Registration before completing the form for Application for Registered Membership.


B. Associate Members
Individuals who have satisfied the education requirements for Registered membership are granted Associate membership until they have successfully completed the registration process. Associate membership is available for up to 24 months, although it will need to be renewed every calendar year.

Associate members receive full membership benefits, plus access to our liability insurance group plan and a listing on the Directory of Associate Members.


C. Retired Members
Registered members who have either temporarily or permanently ceased to practice may elect to retain their Registered status as a Retired Member. Details are available from our Membership Secretary at homeopathy@csoh.ca.



2. SUPPORTING MEMBERSHIP

A. Student Members
This category is available to non-practicing students attending formal education or actively studying through correspondence.

Annual Student membership dues are $50.00. See Application Form for details.

Student members who graduate during the calendar year can apply to upgrade to Registered member at reduced fees. Details are available from our Membership Secretary at homeopathy@csoh.ca.


B. Friends of Homeopathy
This category is available to individuals who want to support CSH and stay connected with the homeopathic community in Canada. They are often patients, home-users, independent students, and practitioners of homeopathy living in Canada who do not meet the citizenship requirements for Registered membership.

Annual Friends membership dues are $50.00. See Application Form for details.


C. Sustaining Members
We welcome businesses and organizations wishing to support CSH and our activities to contact us at homeopathy@csoh.ca for details about Sustaining membership.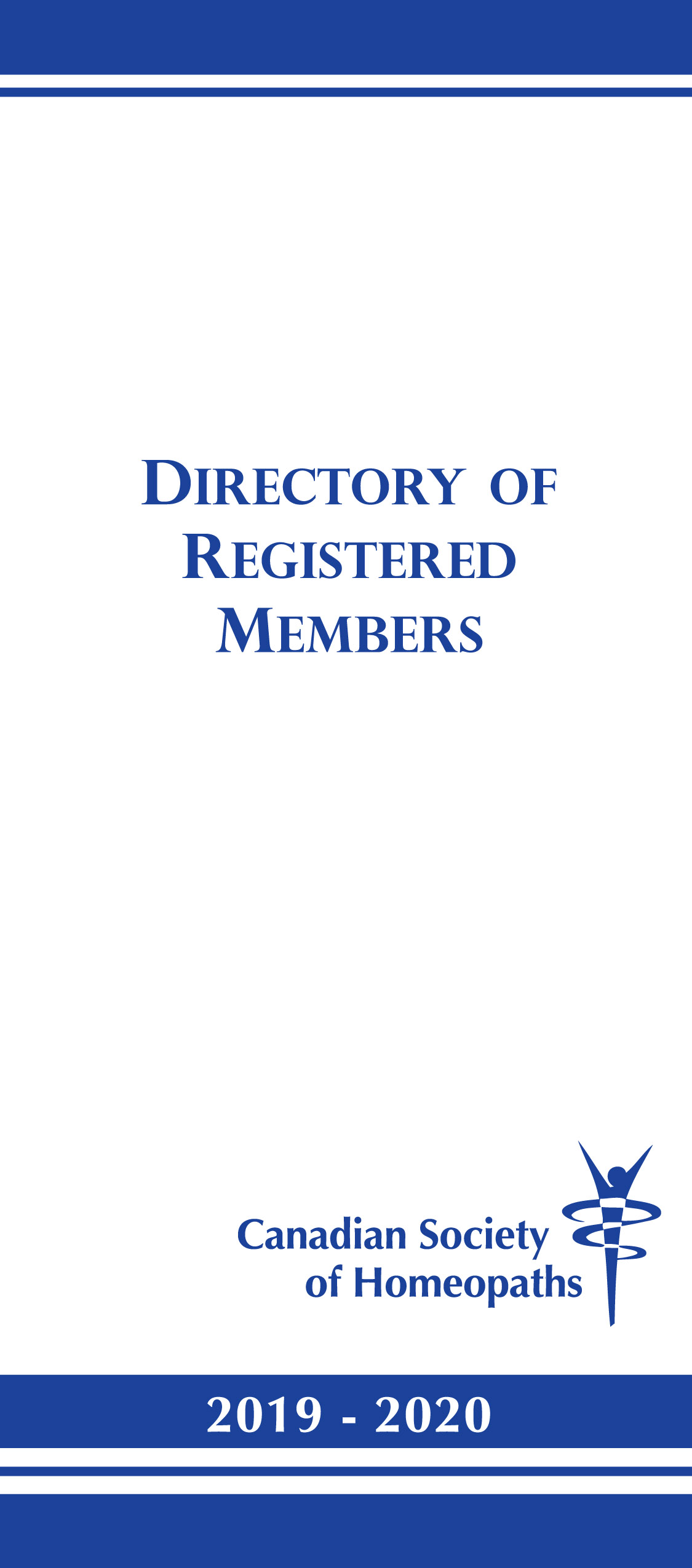 Ask for Your
FREE Copy
homeopathy@csoh.ca










Learn more about homeopathy

Articles written
by CSH members

:

READ MORE