ABOUT CSH
Administration

Affiliates

Background

Communications

Governance



MEMBERSHIP
Benefits of Membership

Let's Talk

Professional Insurance

Join Us!



ADVOCACY
Taking Action

Federal Regulations

Importing Policies

Provincial Regulations



PROFESSIONAL STANDARDS
Registration

Activation Form

Codes of Conduct

Accountability

Professional Development

Accreditation



Continuing Education Events

Online Continuing Education



PUBLIC AWARENESS & EDUCATION
April Awareness Month



Public Education Events



ABOUT HOMEOPATHY
What is Homeopathy?

Homeopathy Works

Patient Information

Extended Health Insurance

Research

In the News

Articles



FOR MEMBERS
Membership Renewal

Society Announcements






HOME >>ADVOCACY




On April 8, 2008, the federal government tabled amendments to the Food and Drugs Act (Bill C-51), which introduces new definitions including a new product category called "therapeutic products", that encompasses drugs, natural health products, medical devices, and cells, tissues, and organs. It also establishes new enforcement powers that include increased penalties, access to personal information, and the ability to enter business establishments without a warrant.

Within two weeks, however, the Freedom of Choice movement and natural health products industry rallied such public opposition to Bill C-51 that the progress of this legislation has been delayed.

To better understand the issues and concerns behind this public opposition, click here to read Bill C-51 and click to read more:
● Health Action Network Society (HANS)
● Natural Health Products Protection Association

The Board of the Canadian Society of Homeopaths agrees that this legislation contains troubling aspects that could seriously affect the entire natural health products industry, including homeopathic products.

Specifically, we draw to your attention two issues that have the potential of negatively impacting our long-term access to homeopathic medicines:

1. If this Bill is approved, homeopathic products will be reclassified as therapeutic products and the Minister of Health will be granted the power to "designate a therapeutic product – either individually or by class – as a prescription therapeutic product" [15.1(4)], which can only be dispensed by "an individual who is authorized under the law of a province to prescribe or dispense prescription therapeutic products" [Definition of "Practitioner"].

Thus, the Minister of Health can create and add to a list of remedies available only by prescription, which would be unavailable to students of homeopathy, non-licenced professional homeopaths, and licenced homeopaths whose scope of practice does not include prescriptions for "therapeutic products".

2. This Bill also proposes to expand the definition of "government" to include "a government of a foreign state or of a subdivision of a foreign state, or . . . an international organization of states" and to permit modifications to regulations by reference documents provided by "a government" [30.7].

We are concerned that regulations arising from a foreign source (such as the CODEX treaty) could become law in Canada through the regulatory process, circumventing the disclosure and scrutiny involved in the legislative process.

Although C-51 does not appear to contain any immediate threat to homeopathic practice, the CSH Board encourages everyone within the homeopathic community to learn more about C-51 and to express your concerns in writing to any or all of the following:

● your federal MP
● the Prime Minister, Stephen Harper
● the Minister of Health, Tony Clement
● the NDP health critic, Judy Wasylycia-Leis

Address your letters to:
The Honourable (Name of person)
House of Commons
Ottawa, ON K1A 0A6

Remember, letters addressed to Parliament go postal free!

Original letters are always the best way to influence political leaders. A letter written in long-hand and mailed carries the most impact; however typed letters and e-mails can be effective as well.

If you want to contact MPs by phone or at their constituency offices, click here to find contact information for your Member of Parliament.



Please share this information with everyone you know who has an interest in natural health and ask them to do the same. If enough people join our letter-writing campaign, we have a good chance of influencing MPs to reject Bill C-51 when it comes to a vote for Second Reading.




FIND A HOMEOPATH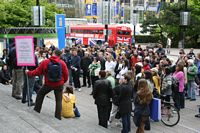 CSH members join a 2008 rally to oppose federal government legislation, which eventually
was suspended.










HOMEOPATHY
IN THE NEWS



The following links
contain a selection of articles published online that feature news and commentary on
homeopathy:

2020 - 2024

2015 - 2019

2010 - 2014

2005 - 2009













Learn more about homeopathy

Articles written
by CSH members

READ MORE