HOME >>ADVOCACY




Supporters of homeopathy in Canada and around the world have worked together to protect and advance the availability of homeopathic remedies and qualified homeopathic treatment. Some recent collective actions are listed below:


September 3, 2008

ACTION:
Step Up for Canada: September 10th, Across Canada

Join this coast to coast rally in opposition to Bill C-51 and to mark the launching of the Canadian Charter of Health Freedom.

Homeopathic users can show your support for the Natural Health Community to ensure that all Canadians have unhindered access to Natural Health Products.

One Day. One Nation. One Rally. September 10, 2008. Check this website for details about locations and times.


RESULTS: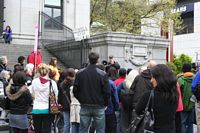 CSH members joined the rally in Vancouver and eventually C-51, along with all other outstanding legislation, was suspended by proroguing.


May 08, 2008

Bill C-51, which would amend the federal Food and Drugs Act, has been introduced in Parliament by the Minister of Health. Although the Bill does not appear to have any immediate effect on homeopathic medicines, it does contain disturbing changes that have the potential of negatively impacting the long-term access to all natural health products, including homeopathic products.

ACTION:
The CSH Board urges homeopathic supporters across Canada to join other advocate groups in opposing this legislation through a CSH-directed letter-writing campaign and an online Stop Bill C-51 petition.



February 28, 2008

As reported on our In the News webpage (February 28, 2008), the BBC abruptly removed the complementary and alternative medicine (CAM) section from its website. This popular portal to news about the effectiveness of non-conventional therapies, including homeopathy, provided a valuable public service for people wanting to research other options in health care.

ACTION:
If you believe that the "Complementary Medicine" website should be restored, especially if you have used the site in the past, you can use the BBC online comment form to send your opinions and request that BBC reassess its decision to deny public access to complementary health content in its archives.



January 24, 2008

The non-profit UK organization, H:MC21 (Homeopathy: Medicine for the 21st Century) is collecting "Homeopathy Worked for Me" declarations for presentation to the Prime Minister. Their aim is to counter the recent campaign attempting to discredit the effectiveness of homeopathy and to ensure that the government continues to support an individual's right of choice in health care.


ACTION:
Those of us who are not UK residents can assist this cause by signing the international supporting declaration.

You can also help to raise awareness about this campaign by e-mailing this suggestion to your own e-mail network.


RESULTS:
Approximately 25,000 people signed the 'Homeopathy Worked for Me' declarations, which H:MC21 plans to deliver to the British Prime Minister at No. 10 Downing Street on Friday, February 26, 2010.


March 1, 2007

The Royal London Hahnemann Hospital (RLHH) is under threat of closing its doors to homeopathic treatment. Carol Boyce of Homeopathic Symposium has drawn attention to this situation in an open letter posted on our website.

Supporters of homeopathy can sign an official e-petition that will be accepted by Parliament as the equivalent of a paper petition. This petition states: We the undersigned petition the Prime Minister to honour Parliament's commitment to patient choice by preserving the Royal London Homeopathic Hospital and the service it provides as an integral part of the NHS.


ACTION: [Closed as of July 12, 2007]
British citizens - no matter where you live in the world – can sign the official e-petition by clicking on the E-petition homepage on the 10 Downing Street website and choosing the most relevant description from the drop down list.


RESULTS:
By July 12, 2007, which was the deadline for accepting signatures, a total of 7,439 British citizens had signed on in support of the RLHH.